Juniper Director Matthew J. Saville Opens Up About His Film Fest Hit
Feb 22, 2023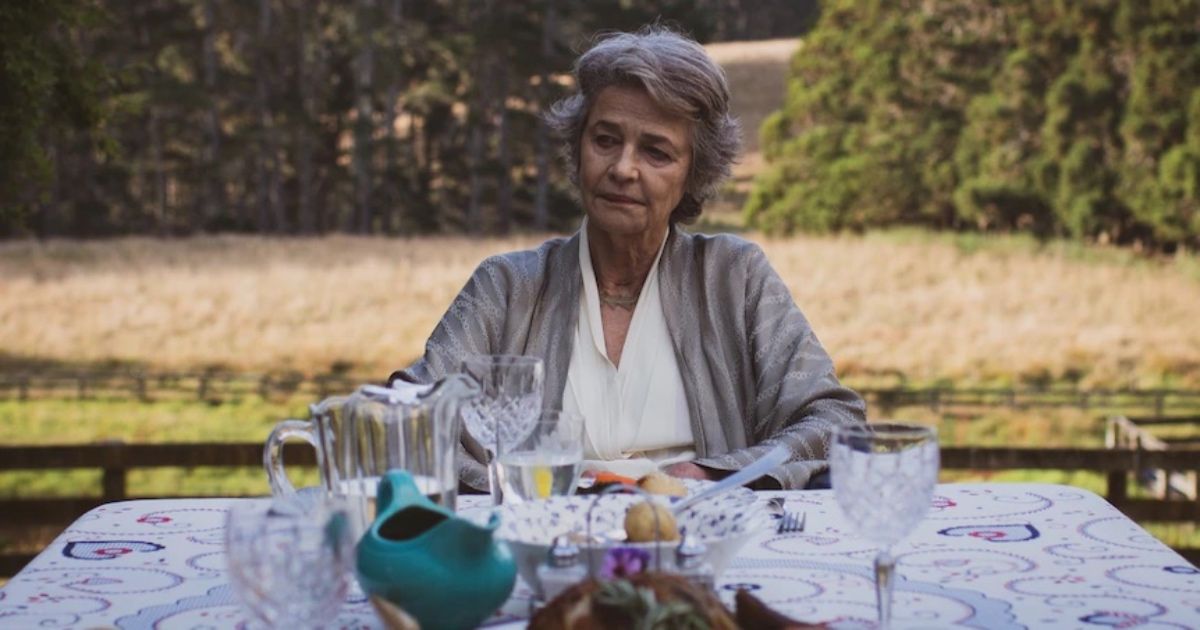 With Juniper, writer/director Matthew J. Saville (X, Spartacus) has crafted a captivating tale with some of the most soul-stirring themes people are confronted with: life, love, death, grief, shame, and mortality. The themes may be deep, but there's plenty of humor and heart in Juniper, fueled with pristine balance between the film's two stars, the great Charlotte Rampling (DNA, Dune, 45 Years) and George Ferrier (or Peacock's One of Us is Lying).
Juniper has garnered attention on the film fest circuit—from the Palm Springs International Film Festival to the famous Edinburgh International Film Festival. Reviews have been stellar, too, and Rampling's performance has been heralded.
MOVIEWEB VIDEO OF THE DAY
Saville's tale, pulled from his own life and tweaked significantly, revolves around a rare familial love story of Ruth, a 77-year-old war journalist (Rampling), and her estranged, self-destructive, teenaged grandson, Sam (Ferrier). Upon returning home from boarding school where things went south, Sam discovers his wheelchair-bound alcoholic grandmother has moved in. Clashes occur.
"I've been involved in quite a few projects, but this was one of the first things I ever sort of wrote seriously," Saville told MovieWeb. "It's based on a personal story, where my own grandmother I didn't really know came to live with us for the last six months of her life. And she was an alcoholic. She did have a bell and she was a character like Ruth—a very smart, intelligent woman who didn't suffer fools. I suppose her character just stayed with me."
Set against a stunning backdrop of New Zealand, Juniper is as deep as it is heartwarming. Saville shares more about the film, working with Rampling, and what he hopes audiences appreciate.
On Working with Charlotte Rampling
MovieWeb: Great to connect here and congratulations. I love how the film ultimately deals with the choices people make—to live, die, how we handle grief, and how to fully embrace life. Can you share more about its genesis?
Matthew J. Saville: The trick was in finding a 'story' that's not really my story. It has elements of my family and my grandmother, but it's not her, and it's not me [in the film]. Ruth is a hybrid character. She'd been to the Spanish Civil War and had this incredible life. I started writing a coming-of-age story and then sort of realized I was writing something closer to Harold and Maude, and not a coming-of-age story. Rather, a "love" story, so that got me excited—that idea of a true love between this young boy and this woman he didn't know; something that was platonic. And you know, Charlotte can do no wrong.
Related: Bunker Review: Horror Lurks Underground
MW: Speaking of… can you share more about your experience working with her?
Saville: Charlotte definitely came on board to collaborate. That's what she's interested in. I was kind of about wooing her, and I needed her specifically because I needed a woman who had this kind of power, a character who had power over men in her life and knew that was in her body and carried that into her older age. It's not something you can really know. If you can act that, you either have that kind of presence or you don't. And with Charlotte, that sort of matched with my own grandmother.
MW: What sort of things do you remember about your grandmother?
Saville: I remember finding a photo of her when I was younger, and I didn't know it was her until my father told me. For me, it was about reaching out to Charlotte, and getting her interested. She read the script and liked it but had issues. She also had issues of coming as far as New Zealand, so I had to sort of play over that and convince her that it was going to be a good time. So, I think she was interested in the experience as well as the film. You know what I mean? It was all about making it as authentic for her, and that really grounded the film. She was frank, humorous, and wonderful all around.
Why George Ferrier Was a Find
Transmission Films
MW: Let's chat about the younger actor, George Ferrier, who really stands out here.
Saville: George was just such a find. He brought so much confidence, but also vulnerability, which is hard to find. He also brought a kind of… well, you know when you're going through a journey with a character who's filled with grief and is behaving badly at times, There's a certain kind of person who can carry that journey on their shoulders. He was that. He went to places [internally] very quickly without needing a warmup. George was the right person, so very open. You know, he has his own personal experience with grief that he was open to using and to explore in an ethical way.
MW: It sounds very deep and moving—the process.
Saville: George was very brave and courageous. Charlotte also was great with him. We got him to write her a handwritten letter to her in the beginning about his fears going into the project. Then he gets a handwritten letter back from the great Charlotte Rampling, and she shares her fears with him, telling him she knows how he was feeling. And that kind of started their connection. I guess we just found the right person in George.
Related: Exclusive: Party Down's Martin Starr and Ryan Hansen Adjust Their Bow Ties Again for the Series' Return
MW: Was the film cathartic for you?
Saville: Yes. It's hard to talk about it without feeling emotion because it's a huge part of me. But it's been very moving, especially to see it with American audiences. It's nice to be able to share something that you believe in.
MW: This was your first big directing/writing endeavor. Was it daunting?
Saville: Yes. You know, you spend so much time trying to convince people to give you some money to make something and then they finally do and you're like, "Oh, God, I've got to actually do this and hope it doesn't suck!" Then suddenly Charlotte Rampling says yes, and you're like, "Oh, that's so great. That's super! But I better not mess this up!" But once you get into it, the pressure of it all just takes you out of it. I just didn't have time, for self-doubt. You just are constantly wanting to explore. I hope people see themselves in the film. There's something about family in there and forgiveness that I think is nice. I think we all have "black sheep" in our family, and we all have to deal with this. Mostly, I hope people feel uplifted by the film
Juniper hits theaters on Feb. 24 and will be available on Prime Video and Apple TV on April 4.
Disclaimer: This story is auto-aggregated by a computer program and has not been created or edited by filmibee.
Publisher: Source link

When Dungeons & Dragons: Honor Among Thieves hits theaters on March 31, D&D fans and non-game players alike are in for a wild ride. On this action-packed adventure, Chris Pine's Edgin the Bard is aided by a group of skilled…
Mar 30, 2023
Editor's note: The following contains spoilers for Shazam! Fury of the Gods You've seen Shazam! Fury of the Gods with Zachary Levi returning as Billy Batson's (Asher Angel) super alter-ego, you've seen the Shazamily face off with the Daughters of…
Mar 30, 2023
Set in faraway fantasy lands based on the lore of the classic tabletop game, Dungeons & Dragons: Honor Among Thieves is one of this year's most anticipated adventure features. Aside from the action-packed premise and the ensemble cast including Chris…
Mar 30, 2023
One of the key players in Universal Pictures' The Super Mario Bros. Movie is also one of Nintendo's earliest video game creations, Donkey Kong, voiced in the film by buddy comedy king, Seth Rogen. Rogen tells Collider's Perri Nemiroff that…
Mar 29, 2023